Polonnaruwa
Polonnaruwa is located in the North Central Province of Sri Lanka. It is the main town in the District. The town is mostly populated with Sinhalese and Muslims form the second largest group. There are also small numbers of Tamils and others including Burgher and Malay. Currently, the new Polonnaruwa is undergoing a major development project known as the "Awakening of Polonnaruwa" under the concept of former President Maithripala Sirisena. It envisions the development of all sectors in Polonnaruwa including roads, electricity, agriculture, education, health and environment will be developed comprehensively.
| | |
| --- | --- |
| Languages spoken | Sinhala |
| Currency used | LKR |
| Area (km2) | 216 km sq |
| Country name | Sri Lanka |
Sports & nature
There are many sports played at the school level and national level at Polonnaruwa. The largest school in the district is Polonnaruwa Royal Central College which is situated at new town. This school currently provides a lot of sports facilities which includes a swimming pool and a sports complex. When you travel to Polonnaruwa, you can witness many ruins, ancient temples and natural serene beauty and you will have not many of activities related spots to visit.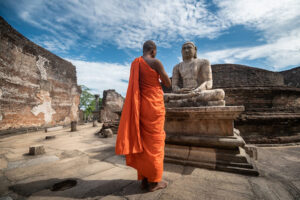 Nightlife info
There is a range of high-end hotels, where you can dine and stay while at Polonnaruwa. You can get a cold beer at most guesthouses. There's no formal nightlife.
Culture and history info
Polonnaruwa is the royal ancient city of the Kingdom of Polonnaruwa, the 2nd most ancient Kingdom of Sri Lanka. Polonnaruwa was first established as a military post by the Sinhalese kingdom. In the 10th Century, it was renamed Jananathamangalam by the Chola dynasty after their successful invasion of the country. Polonnaruwa has a history of surviving many wars and battles. Today the ancient city of Polonnaruwa remains one of the best planned archaeological relic cities in the country, standing testimony to the discipline and greatness of the Kingdom's first rulers.
Unfortunately no accommodations were found.
Unfortunately no tours were found.
Unfortunately no car rentals were found.
