x
Thank you for submitting an inquiry. We will get back to you as soon as we can.
Wild Glamping (Gal Oya)
Set in the historic village of "Rathugala" close to the Gal Oya National Park inhabited by the "Veddahs", the last of Sri Lanka's indigenous population, Wild Glamping Gal Oya is surrounded by savanna forests and picturesque mountains. This 30 Acres of abandoned deforested chena cultivation bordering Rambakan Oya, has been converted into an organic farm using good practice agriculture.
Sustainable tourism being the main focus, the campsite is built adhering to green building guidelines using locally sourced material allowing guests to indulge amidst nature whilst enjoying luxurious and modern comforts. Once at the camp site, guests are allowed to experience organic farming while actively participating in environment protection through agro reforestation and drip irrigation.
90% of its employees are from the neighboring indigenous Vaddah communities giving them the opportunity for social & economic inclusion.
Accepted credit cards
All major credit cards are accepted
Facilities
24/7 reception
Air-conditioning
Airport transfer
Ayurveda
Currency exchange
Drinks served 10am-midnight
Evening entertainment
lunch and dinner
Open-air Bath
Outdoor freshwater pool
Private swimming pool
Restaurant
Restaurant and Bars
Satellite TV
Wi-Fi
Activities
Gal Oya National Park - Nilgala & Hathpotha Safari
Inginiyagala Boat safari
Excursion to Rajagala (Uhana,Ampara) newly found archaeological site, Buddhist Monastery(1h 15m Drive) Plantation visit
Walk to kiri-oruwa Lake
Trek to Monkey Mountain
Bush walks with the Indigenous community,"Veddahs"
River bathing
Participate in Organic garden cultivation
Learn the art of Indigenous cooking
Ampara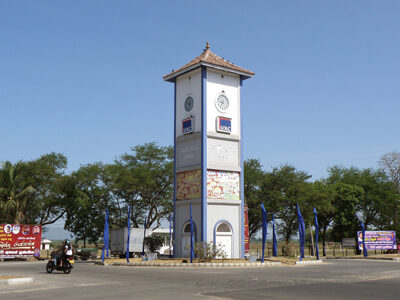 Ampara District is one of the 25 districts of Sri Lanka, the second-level administrative divisions of the country. The district is administered by a District Secretariat headed by a District Secretary (previously known as a Government Agent) appointed by the central government of Sri Lanka. The capital of the district is the town of Ampara. The district was carved out of the southern part of Batticaloa District in April 1961. It is bounded by Batticaloa and Polonnaruwa districts from north, Indian Ocean from east, Hambantota District from south, Badulla and Matale districts from northwest and by the Monaragala District from west and southeast.
---
Read more
We are sorry, there are no reviews yet for this accommodation.
