x
Thank you for submitting an inquiry. We will get back to you as soon as we can.
Mylampavely Village Tour – Batticaloa Excursions
1 day - Offered in: English - Max 30 people
Enjoy the bird watching
Visit the cultural Hindu temples
Dining with the locals
Activities
Mylampavely is a very small and tight knit village located on the outskirts of Batticaloa, where you can travel the short distance by Tuk Tuk or by bike during the morning hours. Sri Lanka is known as a birder's paradise as well and Mylampavely is an ideal place for bird watching. Click as many snaps as you want while you bird watch to freeze the moments and to take it back with you as a souvenir. At Mylampavely you can also visit a lot of temples. There's something unique with how every hindu temple is built and all the architectural details that go into during the process of building them. So are the temples at Mylampavely holding architectural value. You can end the visit to Mylampavaly by dining for lunch with the locals.
Timing :
Morning 9.30am - 1.00 pm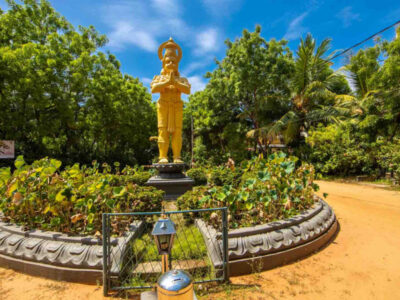 Mylampavali is situated in the Eastern Province of Sri Lanka near Batticaloa. Mylampavali is known for its Kamakshi Amman Temple. It is known among devotees for an exotic experience in Hinduism, unlike other traditional Hindu temples in Batticaloa.
0 Accommodations
1 Tours
0 Car rentals
We are sorry, there are no reviews yet for this tour.
