x
Thank you for submitting an inquiry. We will get back to you as soon as we can.
Availability
0 to 4.99 Years free of Charge
5 to 11.99 Years Add 50% meal rates
Akway Resort (Haputale)
Located in the lush green hills of Haputhale and blessed with an unbelievable panorama, the Akway Resort is your perfect escape- with little treasures and quiet pleasures and views you've not imagined before. Consider it your own personal hideaway in paradise.
Savor gourmet cuisine crafted by our professional kitchen brigade and even create your own menus by selecting the freshest of ingredients from the Akway organic home garden. Relish a gastronomic medley of Asian inspired delights against stunning views of nature's masterpieces. The mountain panoramas and verdant landscapes act as a picturesque backdrop to complement the vibrant culinary offerings. The culinary offerings with mouthwatering aromas and tantalizing flavors are set to wet the appetite. Private dining experience of your choice can be arranged so as to indulge in an intimate feast with your beloved. We will also offer you the finest wines and spirits or cocktails mixed to perfection – expect to be indulged to the fullest.
Cancellation / Prepayment
Free Cancellation before 14 days. Cancellation within 1-14 days 50%. 100% Room Charge for No Show
Children and extra beds
0 to 4.99 Years free of Charge.
5 to 11.99 Years Add 50% meal rates.
Accepted credit cards
All major credit cards are accepted
Facilities
24/7 reception
Air-conditioning
Buffet breakfast
Currency exchange
Evening entertainment
lunch and dinner
Luxury Rooms
Mini Museum Coffee Room
Private bathroom with shower
Restaurant
Satellite TV
Special Functions
Wi-Fi
Activities
Bambarakanda Water Falls
Diyaluma Water falls
Adhisham Bungalow
Haputale Gap
Lipton's seat
Dambatenne Tea Factory
Haputale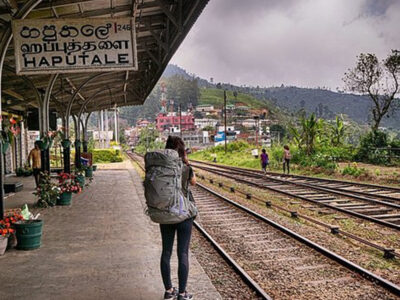 Haputale is a town of Badulla District in the Uva Province, Sri Lanka, governed by an Urban Council. The elevation is 1431 m (4695 ft) above the sea level. The area has a rich bio-diversity dense with numerous varieties of flora and fauna. Haputale is surrounded by hills covered with cloud forests and tea plantations. The town has a cooler climate than its surroundings, due to its elevation. The Haputale pass allows views across the Southern plains of Sri Lanka. The South-West boundary of Uva basin is marked by the Haputale mountain ridges, which continue on to Horton Plains and Adam's Peak to the west. CNN in 2010 named Haputale as one of Asia's most overlooked destinations.
---
Read more
We are sorry, there are no reviews yet for this accommodation.
