x
Thank you for submitting an inquiry. We will get back to you as soon as we can.
Availability
Children below Age of 06 years can share the room with parents and will be not charged for meals in the SET MENU.
Backwater Lodge (Wilpattu)
Located on the banks of the backwater of the majestic Kala oya, The Backwaters is a magical place where luxury meets nature, blending to give you a matchless experience on the borders of Wilpattu National Park. Surrounded by dense forests of the nature reserve, the hotel gives you stunning views of the rich biodiversity in the canopy top as exotic wildlife awakes, and the sun peeks through trees in the distance bracing, up for a busy day.
A complex of separately constructed cabin-type accommodations elevated to tree top level, this might be one of the best places in Sri Lanka for wildlife enthusiasts and nature lovers to stay. Complete with a private bathroom, an open deck and bug protection mesh to keep all the unwelcome guests away.
Dine in style with a mouth-watering spread of local dishes that will set your palette ablaze with flavours. From local and international breakfast delights, to rich Sri Lankan rice and curry for lunch and fun innovative dishes for dinner – all inspired by local ingredients and flavours. Be enthralled by the unique tastes that rule this spice island.
Take this opportunity to enjoy nature in its purest form as The Backwaters takes every step to preserve its environment. From a no plastic policy, upcycled and eco-friendly design and minimal impact to nature during construction, the unique architecture embodies the core concept of The Backwaters – respecting the environment and creating an eco-friendly and sustainable space.
Children and extra beds
Children below Age of 06 years can share the room with parents and will be not charged for meals in the SET MENU.
Accepted credit cards
All major credit cards are accepted
Facilities
24/7 reception
Air-conditioning
Buffet breakfast
Café
Currency exchange
Evening entertainment
lunch and dinner
Private bathroom with shower
Wi-Fi
Activities
Safari Jeep
Boat Safari in Uppu Aru
Whale and Dolphin watching boat tours
Wilpattu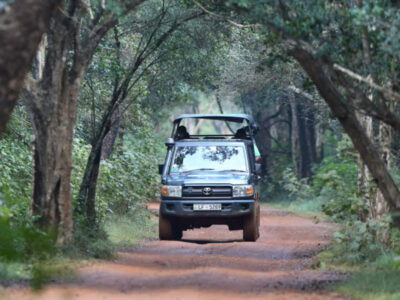 Wilpattu National Park (Willu-pattu, "Land of Lakes") is a national park in Sri Lanka. The unique feature of this park is the existence of "Willus" (natural lakes) – natural, sand-rimmed water basins or depressions that fill with rainwater. Located on the northwest coast lowland dry zone of Sri Lanka, the park is 30 km (19 mi) west of Anuradhapura.
---
Read more
We are sorry, there are no reviews yet for this accommodation.
