x
Thank you for submitting an inquiry. We will get back to you as soon as we can.
Availability
Child age between 03 to 05 years free of charge. Child age between 05 to 11 years will be charge for meals & room on FOC. Age over 11 years consider as adult.
Highcairn Luxury Boutique (Bandarawela)
A sunrise is one of the most majestic and beautiful scenery we could witness. The beauty of the sunrise is that it is a powerful force with one capable of imparting its warmth on the most hardened to souls, where it inspires, renews the soul and it gives you new hope. You can experience the most breathtaking sunrise from the luxurious rooms at Highcairn Luxury Boutique Hotel in Bandarawela.
Just 5 minutes' drive from the Bandarawela Town at Highcairn Luxury Boutique Hotel is the ideal romantic getaway destination located in the beautiful hills, providing relaxing space for a calm and comfortable retreat for the whole family with the climate ambiance enchants anyone for an exalt feeling. The glorious evening sky blazing color change as well as wonderful views of sunset and sunrise would lavish anyone with pleasure.
With closely located leisure cities of Nuwara Eliya, Haputale and Ella, Bandarawela make way for on goers a chance to experience the taste of true relaxation. The location is in close distance with many famous Sri Lankan waterfalls including Diyaluma, Dunhinda, Bambarakanda and Duvili Ella with extraordinary sceneries. The most popular local and foreign tourist destinations such as the Horton Plains and World's End which are also located in close proximity. This unique and soothing Luxurious Hotel will touch the rarity in your Holiday and take you to a cozy feeling to your soul with the fresh mountain air. Where it will remind you that time is moving ever forward and that change is a constant of life.
Cancellation / Prepayment
Full payment need to be settled before the 07 days of the arrival for confirm reservation & cancellation need to informed before the 04 days of the arrival. 01 to 03 days last minute cancellation consider as no show & charge 100% booking value.
Children and extra beds
Child age between 03 to 05 years free of charge. Child age between 05 to 11 years will be charge for meals & room on FOC. Age over 11 years consider as adult.
Accepted credit cards
All major credit cards are accepted
Facilities
24/7 reception
Air-conditioning
Buffet breakfast
Currency exchange
Evening entertainment
lunch and dinner
Luxury Rooms
Mini Museum Coffee Room
Private bathroom with shower
Restaurant
Satellite TV
Special Functions
Wi-Fi
Activities
Hiking & Trekking
Nature Trails and countryside walking
Pool Table & Board Games
Cycling
Photography and Filming
Bird Watching
Ancient Wooden Bogada Bridge Visit
Tea Factory Visit
Samanala Wewa Dam Project Visit
Lipton Seat Visit
Ravana Falls Visit
Dunhida Falls Visit
Dowa Temple Visit
Buduruwagala Visit
Demodara Station Visit
Bandarawela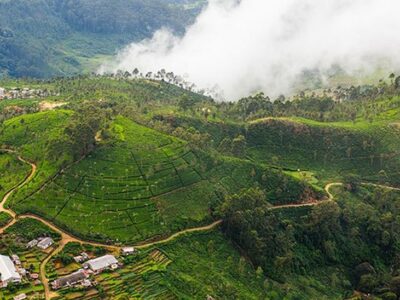 Among the major cities in Sri Lanka, Batticaloa is one. It is located along the Eastern Coast of Sri Lanka. This commercial centre of Eastern Province holds many sites and is surrounded by nature's beauty. Batticaloa district has three lagoons as Batticaloa Lagoon, Valaichchenai Lagoon and Vakari Lagoon, out of which Batticaloa Lagoon is the largest. The weather in Batticaloa leans mostly towards the tropical side throughout the year however you can experience the monsoon season between November to February.
Sports & nature
Batticaloa falls under the Eastern Provincial Sports Council where there are many events hosted for the local players. However, when it comes to Tourism there's a lot of sports to keep you engaged especially interesting water sports! For example, you can do Sailing, Snorkeling and swimming at Passikudah Bay and you can also rent Kayaks, Paddle Boats, Swan Boats and enjoy trips in an engine boat in the lagoons of Batticaloa.
Nightlife info
There are high-end hotels in Batticaloa with access to bars whereas most restaurants don't serve alcohol. If you want to enjoy a good dinner there are a few cafes and restaurants, to name a few; Cafe Chill, Sunshine, Soul Connection and Sri Krishna Cafe for some south Indian delish!
Culture and history info
Mukkuva or Mutkuhar are known to have been the first people to migrate to Batticaloa from India. They along with the other immigrated people established the Kingdom of Mukkuva and constructed seven villages in various areas of Batticaloa. The names of the villages and towns still hold evidence.
---
Read more
We are sorry, there are no reviews yet for this accommodation.
