x
Thank you for submitting an inquiry. We will get back to you as soon as we can.
Ayurvie Weligama Retreat (Weligama)
'Ayurvie Weligama' is the latest addition to its collection of experiences. The resort opened its doors to guests on 15th March 2018, after the ceremonial opening held with the presence of Honorable Minister John Amarathunga, Minister of Tourism & Christian Affairs, H. E. Jean-Marin Schuh, Ambassador of France to Sri Lanka and the Maldives & other dignitaries.
Situated in the Southern coast of Sri Lanka, renowned for its tranquil atmosphere and magnificent beaches, "Ayurvie Weligama" overlooks the Indian Ocean & is surrounded by beautiful mangroves and marsh land with a breathtaking view of the famous Jungle beach of Weligama Bay. The brainchild of Chandra Wickramasinghe, a veteran in the Sri Lankan leisure industry, Ayurvie is a 600 Million (LKR) investment which focuses on providing authentic experiences, to those seeking to explore, the best kept secrets of the ancient South Asian healing system of Ayurveda combined with yoga which asserts the delicate balance of the mind, body and spirit for wellness and good health.
This luxury boutique resort which offers guests specialized Ayurveda & Yoga retreats is designed to accentuate the indigenous Sri Lankan culture as inspired by the traditional and eco-friendly architectural style of Sri Lanka. With each room facing the Indian Ocean and the surrounding natural greenery of the resort, guests are to be transcended into an atmosphere of complete relaxation and serendipity. The spacious interior of the resort is designed according to ancient Ayurvedic concepts, focusing on physical vital factors known as dosa, dhatna mala systems and energy channels known as Prana and Chakra systems. Some of the resort's unique attractions include its spacious spa, individual therapy rooms for its visitors and the specially designed areas known as Anitya; for relaxation, yoga and Buddhist meditation.
All Ayurvedic programs at "Ayurvie Weligama" would be carried out according to well-established Ayurveda practices of South Asia dating back more than 3000 years, under the supervision and consultation of well renowned and qualified professionals in Ayurvedic and Complementary Medicine. Colour and Music Therapy would be a vital part of the wellness treatment offered at the resort and each visitor would be individually advised on their nutrition according to the observations made by an in-house doctor. Sunrise & sunset yoga will be practiced daily with the professional in-house yoga instructor & visitors will have the unique opportunity of taking part in traditional dancing lessons within the resort premises.
While promoting the wellness and the good health of visitors, the Resort also focuses on eco friendly & sustainable practices in its daily operations. Ayurvie is specially designed to produce its own electricity with solar panels, generating up to 85KV monthly. The resort also maintains an organic vegetable garden to fulfil a portion of its daily vegetable requirement. As the resorts CSR initiative, the resort will be donating 01 USD from each room night sold to "Reconstruire et Vivre" R.e.V (Rebuild & Live), a nonprofit association managed by the Director Board of the resort which conducts preschools & computer centers for the needy children of the area.
"Ayurvie Weligama" would be one of the very few luxury hotels which specializes in Ayurveda / Yoga in Sri Lanka. The resort offers guests a unique opportunity to experience a part of the ancient, South Asian heritage well preserved in Sri Lanka while exploring the secrets of Ayurveda, as they rejuvenate their mind, body and spirit.
Ayurvie Weligama will be the first Ayurvedha & Yoga Resort to join the Theme Resorts & Spas portfolio. The group already takes pride in its collection of Maalu Maalu Resort & Spa Passikudah, Aliya Resort & Spa Sigiriya, Mountbatten Bungalow Kandy, Scottish Planter Glendevon Bungalow Nuwaraeliya & Kithala Resort Tissamaharama.
Accepted credit cards
All major credit cards are accepted
Facilities
24/7 reception
Air-conditioning
Airport transfer
Currency exchange
Drinks served 10am-midnight
Evening entertainment
lunch and dinner
Open-air Bath
Outdoor freshwater pool
Private swimming pool
Restaurant
Restaurant and Bars
Satellite TV
Spa
Wi-Fi
Activities
Visit Bimbarama Temple
Cinnamon Plantation
Tea Factory
Galle Fort
Weligama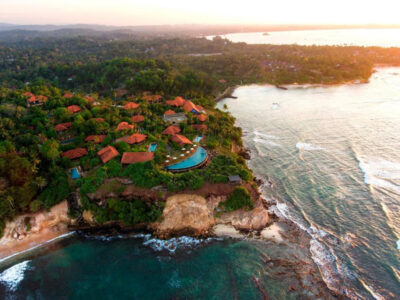 Weligama is a town on the south coast of Sri Lanka, located in Matara District, Southern Province, Sri Lanka, governed by an Urban Council. The name Weligama, literally means "sandy village" which refers to the area's sandy sweep bay. It is approximately 144 kilometres (89 mi) south of Colombo and is situated at an elevation of 9 metres (30 ft) above the sea level.
Weligama (meaning 'Sandy Village') is an interesting blend of lively fishing town and beach resort. The sprawling main settlement and coastal road is somewhat scruffy and not that easy on the eye, but you'll find the sandy beach is attractive once you're away from the main section; there's a couple of cove beaches west of the centre. At the east end of the beach, there's an enormous new concrete Marriott hotel, which towers over the surrounding buildings and looks completely out of place.
Weligama's benign beach break is ideal for novice surfers and many independent travelers learn to ride their first waves here.
---
Read more
We are sorry, there are no reviews yet for this accommodation.
