x
Thank you for submitting an inquiry. We will get back to you as soon as we can.
Tea and Experience Factory (Mandaramnuwara)
Where mist covered mountain peaks provide shelter from the sun, enjoy a relaxing escape at this charming retreat among Mandaramnuwara hotels. Originally an old tea factory of the 1800s, it has now been redecorated providing luxury accommodation and an immersive journey through tea production from 'Leaf to Cup'.
There are a myriad of hikes and and treks to conquer around the hotel. Speak to our team who will help you choose the best visit that is right for you. Whether it's a long day's hike or you just want to pamper yourself, our masseuse will lull your worries away. Tea & Experience Factory' offers an ensemble of experiences to satisfy the varying preferences of guests from all walks of life.
The temperature controlled pool of the hotel is ideally located to offer a panoramic view of the mist-covered verdant pinnacles of the surrounding mountains of Nuwara Eliya. Points of interest in the region are also easily explorable from the hotel.
Accepted credit cards
All major credit cards are accepted
Facilities
24/7 reception
Air-conditioning
Airport transfer
Currency exchange
Drinks served 10am-midnight
Evening entertainment
lunch and dinner
Open-air Bath
Outdoor freshwater pool
Private swimming pool
Restaurant
Restaurant and Bars
Satellite TV
Spa
Wi-Fi
Activities
Hiring Local - The community commitment
Appu's cuisine - An evolved legacy
Leaf to Cup
Unpacking the making of Green Gold
Kandy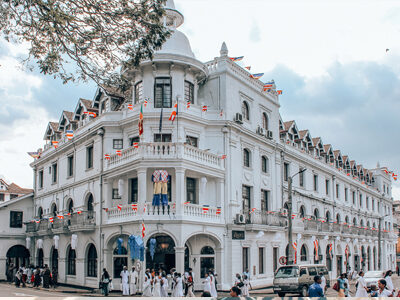 Kandy is one of the major cities in Sri Lanka located in the central province of the Island. The city is surrounded by hills and lies in the midst of tropical plantations which are mainly tea. It is the home of the ever so famous Temple of the Tooth Relic, Sri Dalada Maligawa. It is worshipped by the Buddhists known to be one of the most sacred places of worship. It was also declared as a world heritage site in 1988 by Unesco. Since Kandy is located among mountains and thick forests, 1600ft above sea level, it is relatively cooler due to its higher elevation than the rest of the cities in Sri Lanka.
Sports & nature
Sports in the central province of Sri Lanka holds a record of producing very well known sports personalities and players. You can find youth actively engaged in sports such as Rugby, Cricket, Football, Swimming, Hockey, Athletics, Table Tennis, Boxing, Basketball and even the "rich man's sport", Golf! As a tourist, you can go on Horseback Riding and if you are lucky, you can also witness a lot of sports events conducted across the year.
Nightlife info
It is quiet and a peaceful town but there are quite a few nightclubs. The main nightclub is called Le Garage, and it rocks at weekends in Le Kandyan hotel. It is some distance from the main part of town and you will need to hire a taxi or a tuk-tuk to get you there. Kandy being a small city, the nightlife is definitely spiced up especially during the weekends. When spending a few nights in Kandy, you can vibe peacefully and spend a few evenings gathering memories.
Culture and history info
Kandy was the last capital of the ancient King's era in Sri Lanka. It is known for the continuous reign of several kings and a series of Historical events. The kingdom also tolerated a lot of attacks occasionally by the Dutch.
At present, Kandy being the capital of the central province is a major transportation hub to the central highlands of Sri Lanka. Travelling to Kandy through the main road, Colombo-Kandy and Kandy - Nuwara Eliya is the most scenic roads.
---
Read more
We are sorry, there are no reviews yet for this accommodation.
